Health & Safety at Link-On
Link-On Communications is truly dedicated to the health and safety of its employees.
Our employees are trained in various lifesaving and emergency response skills as shown on the list included under Training.
We follow regulatory and industry best practices as set out by ISHA, CSA, WSIB, EUSA, OHSA and Canada Labour Code 2. We are also compliant with both Cognibox and Comply Works systems.
Bottom line is that we truly do care about our employees and work diligently to ensure a positive and safe work environment!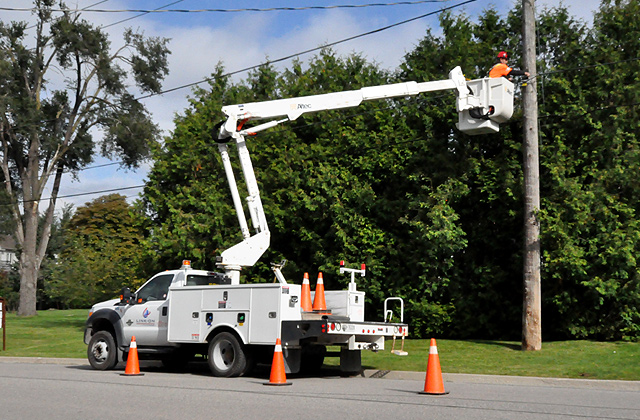 Safety
WE DON'T LEARN SAFETY BY ACCIDENT:
WE LEAD BY EXAMPLE!
Injuries, incidents and occupational illnesses can be prevented.


Link-On is committed to protecting the health and safety of our employees, contractors and the general public. Following the company's policies and procedures is mandatory, as our mandate is to have zero injuries, incidents or occupational illnesses. As a result, we rival the industry leaders for total accident free days.

Our "360 Degrees of Accountability"


Management, employees and contractors: all are accountable for safe operations and all are expected to take a personal interest not only for their own safety but also for the safety of their co-workers. This includes providing the proper equipment and supervision, completing mandatory training, fixing deficiencies promptly, implementing accident prevention tactics and ensuring that processes for continuous improvement are reviewed.

Ongoing assessment and improvement is mandatory!


We are committed to proactively managing our safety performance through observations, inspections, assessments, process hazard reviews, investigations, quality control / quality assurance procedures, etc., in a way that supports our drive to zero injuries, incidents and occupational illnesses.

We also promote off-the-job health and safety for our employees.


Link-On's concern and caring for the health and safety of our employees extends beyond the workplace. An off-the-job injury can be as devastating and impactful as one suffered on the job. Employees are encouraged to demonstrate their leadership and excellence in health and safety practices… …everywhere… for the benefit of one and all!
Continuing education and training that never stops…


Link-On's safety procedures and policies are already well-established – resulting in excellent safety records and being a safety practices leader vs industry standards – but we don't stop there. Our safety and policy committees meet regularly to recommend changes and uphold our mandate to ensure that everyone returns home safely… each and every day!